Interested in adding a GVAussie to your family? We'd love to help you find the perfect new addition! We offer a few options: Joining our unofficial WAITING LIST (if you're wanting a puppy 6+ months from now. However this is not securing a spot/guaranteeing you a puppy) OR you can join our official DEPOSIT LIST (which will get you in line for a puppy in an upcoming/planned litter). The Deposit list families are contacted BEFORE the waiting list. It is rare for us to have availability after we have contacted the deposit list, so if you plan to get a dog from us, we advise you get on the deposit list.
Please remember we place our puppies first on temperament and personality. We feel this is most by far most important. However, color and gender can be put in to consideration, if you're willing to wait for the right match.
Please fill out a questionnaire for more information about getting on our list. Once we receive your questionnaire, you should hear from us promptly regarding your application. (We make sure to review applications and respond to them 1-2 times a week).
2023 GVA PLANS:
Below you will find our planned/potential litters at this time, for 2023. As well as possible puppies available PENDING temperament testing and evaluations!
AUSTRALIAN SHEPHERDS
Hank X Bindi (Dusty X Feta)
– CONFIRMED – Approximate Due Date Sept 28 – Ready End of November – All Colors Possible – Spots Open
Dusty X Hazel

– CONFIRMED- Approximate Due Date Mid October – All Colors Possible – Limited Spots Open
Hank X Charlotte

– NOT CONFIRMED – This will be Charlottes last litter – Approximate Due Date Early November- All Red Litter – Spots Open
MINIATURE AMERICAN SHEPHERDS
Chrome X Dori – PLANNED to breed December 2023 – Ready Spring 2024 – All Colors – Spots Open
Wanting to Add a Green Valley Australian Shepherd to your Family?
Start by filling out our Puppy Questionnaire:
Purchasing a Puppy from Green Valley Aussies
When Purchasing a puppy from Green Valley Aussies our first priority is matching the right home with the right puppy. In order to do so, we ask you to complete the questionnaire above, so we have a better sense of what you have planned for the puppy, your lifestyle, experience with Aussies, etc.
We do not sell puppies strictly off gender and color! We attempt to provide you with the "look" you are hoping for (especially if your willing to wait for the perfect puppy), however, matching temperament and personality is our first priority.
After you have filled out the questionnaire and we feel a Green Valley Aussie puppy is right for you, a non-refundable deposit of $300.00 (towards the final price of the puppy) will be required to be placed on the "official" deposit list. Our reservations are on a first come basis. We WILL NOT hold a puppy without a deposit.
The $300 deposit is transferable to other/future litters for up to TWO YEARS. If you have a deposit placed and the timing does not work for you, you can transfer the deposit to a future litter. IF you place a deposit on a specific puppy (knowing the gender, color, temperament and/or go home date) That deposit would be NON TRANSFERABLE. 
All GVAussie puppies are priced the same. We do not vary pricing based on gender or color. Pet/Companion Puppies are priced at $4,000.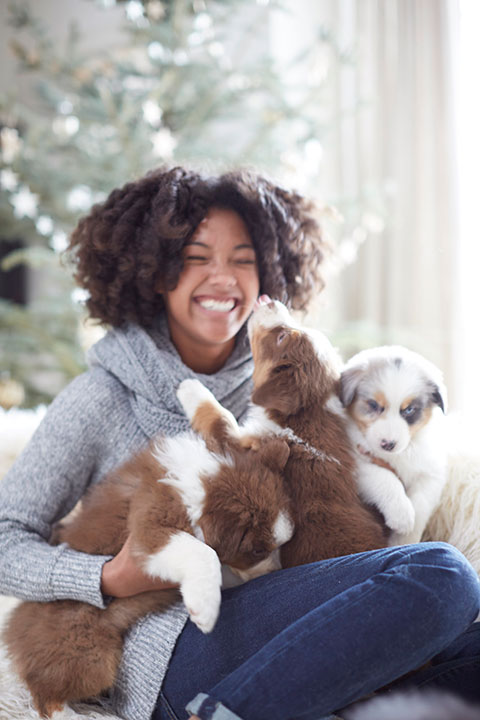 All Pet/Companion puppies will be sold with strict Spay/Neuter contracts.
We will never sell a dog "Out Right" or with just "Full breeding rights". Show/Breeding prospects will be sold on co owned, individual contract. Please do not contact us strictly for a breeding dog.
We DO NOT SHIP our puppies. We require our clients to come pick their puppy up in person.
Green Valley Aussies is happy to hand deliver your puppy directly to you, if all travel expenses (flight + carry on pet fee) are paid by the new owner, along with a $450 delivery fee. We understand some clients can't get away for a trip here to Utah, so we are happy to bring the puppy to you.
Puppies must be PAID IN FULL by 6 weeks of age.
If you back out on a puppy at the 6 week mark (when we are finalizing deposit/payment) your $300 deposit WILL not transfer/be refunded. 
We accept payment via Cash, Paypal, Venmo, Bank Transfer, Check or *Credit Card.
*There will be an additional service charge on Credit Card Transactions. We typically send Quickbooks invoices for payment.
Please contact us for more information about making a payment. We do not post direct links to payment because we want to make direct contact with the client before there are any transactions made.
Puppies CAN NOT leave to their new homes before 8 weeks of age!
*GVAussies retains first right of refusal on ALL puppies sold. If for any reason you can not keep your GVAussie, we must be contacted first. This is EXTREMELY important to us because we do not want to lose contact with our dogs, have them end up in shelters or rescues. All Gvaussie puppies are ALWAYS welcome back to us and/or we will help in assisting to re home, NO MATTER WHAT!
*We dock tails on ALL GVAUSSIE PUPPIES! Please do not contact us asking for the tail to be left on a puppy. We dock for multiple reasons. 1. The Australian Shepherd Breed Standard does call for a docked tail. 2. Some of our puppies are born with Natural Bobbed Tails. 3. Occasionally our puppies do go to ranch/working homes where a tail can be a hazard for the dog. And 4. We dock tails at 3-5 days old. If we were to not dock a tail on a specific puppy for you, you would have to pick the puppy at 2 days of age. This means you would be picking strictly off gender and color and we feel we must wait until we can temperament test the puppies before they are chosen by a specific family. Personality of the puppy far outweighs the gender and color since all dogs are different… we can not know at that young of an age.
All GVAussies come with:
Registration Papers
Contract
Tail Docked
Dew Claws removed
First Set of Shots
Proof of vaccinations from a licensed veterinarian
Letter stating excellent health from a licensed veterinarian
Deworming at 2, 4, 6 & 8 weeks of age
Leash
Collar
Toy
Food
Brush
Collapsable water bowl
Wipes
Paper towels
Potty bags
Puppy Pads
And MUCH MORE!
All GVAussie puppies are started on Location Training, Crate Training, Leash Training and Potty Training. We also work with them on a default sit. Although, since puppies leave us at such a young age, we can not guarantee them completely "trained" in any of the aspects listed above, since this task does fall into the hands of the new owner and will require work in their new home!